Home of Rubber Stamps, Peg Stamps Stamps and clear stamps.
Introducing the excellent new acrylic clear peg stamps: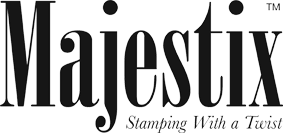 Click here for Directions to our Retail Store
Welcome to Card-io. We specialise in component stamping with Majestix Acrylic clear stamp peg sets. We aim to provide the most exciting range of Stamping Products especially in Peg Stamps. We are proud of our expanding range of Majestix. We also sell Card-io Combinations; clear rubber stamps designed to work with Majestix and Rubber Stamp Tapestry Peg Stamps. Also from Rubber Stamp Tapestry we have a selection of small wood mounted stamp Sentiments and border stamps. We also carry a growing selection of clear rubber (polymer) stamps for use with an acrylic block. Why not check out our selection of Card-io Clear, Clear Rubber stamps with a contemporary feel. If contemporary designs are your thing try our Stamptivity Clear stamps at half price! We also supply a growing selection of rubber stamping accessories including the full 80 colour range of VersaColor small pigment ink pads and all 36 Versa Magic Chalk ink pad colours and an extensive range of Stickles Glitter Glue colours. We have many more items in stock and will be adding them to the site, so watch this space; soon we'll have everything you will ever need for card making, great wedding invitations, scrapbook pages and paper craft projects.
Rubber Stamp Inspirations