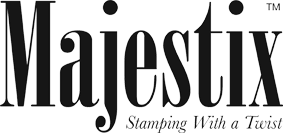 This Page has been Changed please go to Majestix and renew any bookmark you may have made.

Majestix are simple quick and effective clear peg stamps offering complete versatility and ease of stamping due to their elegant ergonomic design. They come in sets of co-ordinated images and can be used to build up beautiful multicoloured backgrounds, borders, garlands, wreaths etc. enabling the crafter to co-ordinate everything they do from hand made greeting cards, wedding stationary, Scrapbook pages, card inserts, envelopes, or gift tags.






Each set comes in a handy, sturdy clear tub, ideal for storing the Peg stamps in their sets. Complete with instructions on how to achieve the design on the label.
Perfect to compliment many craft techniques. We have several themes; Christmas,
Floral, Baby, Celebration, Wedding and Fantasy. New themes are For The Ladies, For The Men, Easter and Miscellaneous. With 6 sets added in September, we now have 33 sets.
Look out for a wider variety of stamp designs coming shortly.

PLEASE NOTE: ORDERS FOR MAJESTIX SETS WILL BE DELAYED

All images have been created by Card-io and are copyright of Card-io.
Christmas Sets


MAFE-01 Festive Bouquet £12-50

MAFE-02 Festive Stockings £12

MAHI-02 Highland Winter £7-50

MAWI-01 Winter Flurry £12-50

MAHI-01 The Holly and the Ivy £10

MAFU-01 Funky Baubles £12-50

MAJI-01 Jingle all the way £8

MAPR-01 Pretty Poinsettias £8

MACH-01 Christmas Cracker £10
Back to Top

Floral Sets




MAPR-03 Pretty Pansies £11



MAOR-01 Oriental Blossom £10
Note:The Branch stamp requires
an acrylic block.


MAAN-01 Anemone Garden £10


MATU-01 Tulip Garden £9

MAHY-01 Hydrangea £7-25

MACR-01 Crocus Garden £12



MALO-01 Lovely Lily £7-25

MAOO-01 Oopsy Daisy £9

MALO-02 Lovebirds £8-50

MAPR-02 Pretty Poppies £12

MAGO-01 Golden Daffodils £10



For The Ladies

NEW!

NEW!


MAAC-01 Accessorize £9

MAMA-01 Make Up Set £8
NEW!


MAFU-03 Funky Shoes £11
Back to Top

For The Men

NEW!
Back to Top

Baby Sets


MACU-01 Cute as a Button £9-50

MABA-01 Baby Love £9

MAWA-01 Water Baby £9
Back to Top

Celebration


MAFU-02 Funky Parcels £13-50
Back to Top

Wedding


MAWE-01 Wedding Confetti £10
Back to Top

Fantasy


MAFA-01 Fairies £13-50
Back to Top

Easter Sets

NEW!

NEW!


MAEA-01 Easter Bunny £9-50

MAEA-02 Easter Treats £9
Back to Top

Miscellaneous Sets.

NEW!


MAGR-01 Green Fingers £11
Back to Top